Try This Wonderful Healthy Peanut Butter Ice Cream!


Peanut Butter Ice Cream
1 cup lowfat cottage cheese
2 scoops JaylabPro Protein Vanilla
2 Tbsp Natural Peanut Butter
1/4 cup Almond Milk
1/4 tsp cinnamon
Blend ingredients together in a blender until a smooth consistency is reached. Pour into a bowl and place in freezer until frozen to an ice cream consistency.
Makes approximately 3 servings.
Nutrition Data per serving:
Calories: 174
Protein: 20 gms
Carbs: 7 gms
Fat: 7 gms
Cinnamon is added because research has shown it to be a very good blood sugar controlling spice. Natural Peanut Butter is full of monounsaturated fat, this can help lower total cholesterol and LDL (bad) cholesterol, plus raise HDL (good) cholesterol. If you want a little less peanut butter taste you can use 1 Tbsp of Natural Peanut Butter and it reduces the fat grams by 3 and calories per serving by 24. When the ice cream comes out of the freezer let it sit on the counter for 10 minutes or warm it up slightly. The ice cream will be harder than high sugar, high fat conventional ice cream because it doesn't contain all that excessive sugar and fat.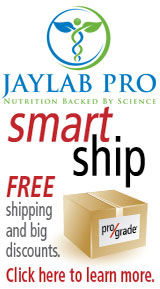 We are a GMP Rated facility, so what we say is in the bottle is really IN the bottle. Sure, it's extremely difficult to get certified, but we feel the extra effort is worth it. Don't you agree?