Tropical Mango Lime Ice Cream
by Nedah Warstler of leanKitchen.com
2 C. coconut milk (the kind in the carton, not the kind in a can)
zest and juice of one lime
1/2 scoop JaylabPro vanilla
1 cheek of a ripe mango
Blend well in a blender, and add to ice cream maker. Make according to packaging instructions. Serve and enjoy when it reaches desired texture.

Serving size- about 2 one cup servings
Carbohydrates: 43.2 grams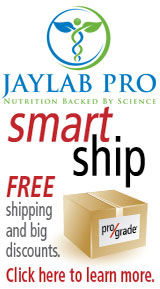 We are a GMP Rated facility, so what we say is in the bottle is really IN the bottle. Sure, it's extremely difficult to get certified, but we feel the extra effort is worth it. Don't you agree?