Independence Day Pops
by Nedah Warstler of leanKitchen.com
1 c. coconut or unsweetened almond milk blended well with
1/2 scoop JaylabPro Vanilla Protein
1 c. fresh or frozen blueberries, blended with just a little water or lemon juice (and stevia to sweeten, if desired)
1 c. fresh or frozen strawberries or raspberries, blended with just a little water or lemon juice (and stevia to sweeten, if desired)
In Popsicle molds, add strawberry layer to molds.

Set aside and let set (1-2 hours), then add center white layer.

Again, set aside (1-2 hours) until still soft enough that you can add the stick, but firm enough to be able to support the blueberry layer, about 1 1/2 hours. Add stick and blueberry layer.

Let freeze overnight, and enjoy!
Nutritional info depends on # of Popsicles made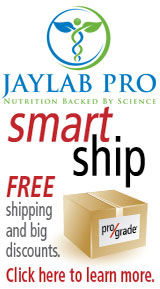 We are a GMP Rated facility, so what we say is in the bottle is really IN the bottle. Sure, it's extremely difficult to get certified, but we feel the extra effort is worth it. Don't you agree?